KABOOMMM MMM
Thunder and Lightning
(or, as I was told as a child: The Angels are Moving...)
library.thinkquest.org/.../lightening1en.html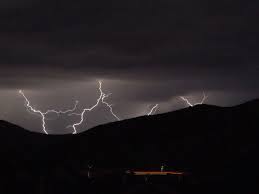 www.utahskies.org/image_library/shallowsky/pl...


One of my ultimate pleasures is to hear rain fall/pour/gush/trickle; to hear thunder rip and roar in a hide and seek battle with lightning's force unleashed…

Early this morning, as I was nicely tucked in bed the skies were having it out. More than seeing it, imaging it all – I opened my bedroom window to hear it all better – curled up again with an anticipatory smiling heart. I grew to find comfort in the thundering roar as in a passionate rapture-ing and moody deliberate concerto… piano – pianissimo bursting into an unpredictable crescendo, exploding……… carrying me……

Suddenly, the fire alarm in the hallway starts loudly shrieking, a few moments later, Microsoft's tune indicated my computer turned itself on – holly cow!
What's happening!?
At my night table the clock is blinking

12:00 !

12:00!

12:00!
The brief power outage pulled me away from the lull, which, unfortunately, was over as suddenly as it came.
After a couple of hours of dark skies and solid heavy rain, our beloved sun is out again!
Thankful to live in this little corner of paradise.